NEXT STOP…
Oldest NY State Park – Niagara Falls
Your Next NY State Stop???
Where else???
The Oldest Park in the USofA…
The NIAGARA FALLS…
Get closer to America's Oldest State Park at Niagara Falls State Park! Find out for yourself why millions of visitors are drawn to this magnificent natural wonder every year.
With awe-inspiring scenery year-round, thrilling attractions, interactive exhibits, miles of hiking trails, and delectable dining options in a family-friendly environment, Niagara Falls State Park is an adventure-packed experience! No passport is needed to experience an unforgettable and breathtaking Niagara Falls vacation.
Get closer to the Falls at a 35% savings when you buy a Niagara Falls USA Discovery Pass. It includes admission to all the great attractions including Cave of the Winds, Maid of the Mist ®, Niagara Adventure Theater, Aquarium of Niagara, the Niagara Gorge Discovery Center and a one-day unlimited transportation ticket for the Niagara Scenic Trolley. Buy in park or on line at www.niagarafallsstatepark.com (Fees may apply to online purchase)…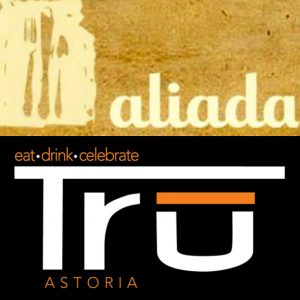 Aliada Restaurant, a TRU Astorian Flavor…
Don't miss these popular destinations and attractions within or near the park:
Visitors Center – offers all park information, tickets to attractions, savings passes, exhibits and easy access to gift shops and refreshments.
Niagara Scenic Trolley – Aboard this environmentally-friendly trolley, you can enjoy a three-mile 30-minute guided overview of the park, or disembark at the various stops and explore the park's many attractions.
Cave of the Winds – Explore beneath the American Falls, navigating under the falls to the famous Hurricane Deck. Those rain ponchos you see aren't optional – you'll be surrounded by the thundering power of water cascading down. Save your footwear and take advantage of the souvenir sandals!
Cave of the Winds "World Changed Here" Pavilion – offers visitors an educational and entertaining perspective on the history and historical significance of Niagara Falls through interactive exhibits including an immersive object theater media presentation.
Maid of the Mist – This world famous boat journey departs from the base of the Observation Tower at Prospect Point for a roundtrip into the churning waters of the American and Horseshoe Falls.
Niagara Gorge Discovery Center – With hands-on learning for all ages, the Discovery Center includes interactive displays and a multi-screen theater showing 12,000 years of the Niagara River.
Observation Tower – This 230-foot overlook provides the only U.S. location to view both the American and Horseshoe Falls. High-speed elevators provide access to the Gorge and boarding area for the Maid of the Mist.
Niagara Legends of Adventure Theatre – Located on the lower level of the Visitors Center, see the film that takes you from the historic to the heroic in a re-creation of legends and real life.
Niagara Aquarium – Located near the park's Discovery Center, this family favorite is home to more than 1,500 aquatic animals that represent ecosystems ranging from the Great Lakes to coral reefs.
Get more Information About Niagara Falls Park from the Official Page of Niagara Falls State Park (Click on the link)